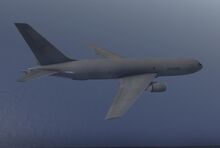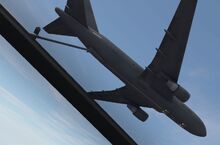 The Air-to-air tanker with the registration N462KC is a military aerial refueling and strategic transport aircraft developed from a civilian airliner plane. It is crewed by 2 pilots and 1 boom operator
Under the front part of the aircraft is a light system (PDI - Pilot Director Indicator) installed that makes the refueling process easier for the fuel receiving aircraft. The left light strip indicates the players altitude, and the right strip indicates forward and aft position. Green means the aircraft is dead center, and red means the player is almost out of range.
Specifications (N462KC) Edit
General characteristics
Crew: three: pilot, co-pilot and boom operator. (Some missions require the addition of a navigator.)
Capacity: 114 passengers, 18 463L pallets, or 58 patients (24 litters, 34 ambulatory)
Payload: 65,000 lb (29,500 kg)
Length: 165 ft 6 in
Wingspan: 157 ft 8 in (48.1)
Height: 52 ft 1 in (15.9 m)
Wing area: ?
Empty weight: 181,610 lb (82,377 kg)
Useful load: ?
Loaded weight: ?
Max. takeoff weight: ?
Maximum Fuel Load: ?
Powerplant: 2 × Pratt and Whitney PW4062 turbofan, 62,000 lbf (275.8 kN) each
Performance
Maximum speed: Mach 0.86 (570 mph, 914 km/h)
Cruise speed: Mach 0.80 (530 mph, 851 km/h)
Range: 6385 nmi (11,830 km) ; Global with in flight refueling
Ferry range: ?
Service ceiling: 40,100 ft (12,200 m)
Rate of climb: ?