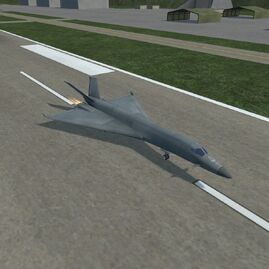 "A supersonic strategic bomber. High payload and fuel capacity" -- Mission Editor description

[

]
The main specialized bomber aircraft of the allied faction. This jet is designed with high-payload tactical carpet bombing in mind. It can reach very high speeds in the air, though its lack of maneuverability makes it somewhat vulnerable to hostile SAM sites and other fighters.
Strategy
[
]
Unlike its cousin, the enemy faction's HB-106 Bomber, this bomber has a greater variety of weapons and is designed with low-altitude bombing runs in mind. It generally flies low and fast to avoid radars, making it apt for hit-and-run tactics. Its weapon variety also makes it a valuable asset in naval combat, giving it plenty of ways to hit enemy ships.
Armament
[
]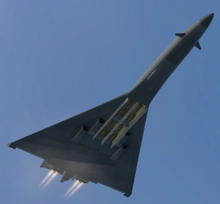 The weapons that the B-11 can equip, as listed in its Equip tab in the Mission Editor. All hardpoints can equip the same weapons.
Trivia
[
]
The B-11 is the only jet in the game that uses a delta wing setup.