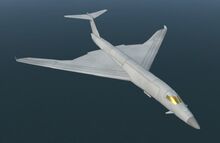 "A supersonic heavy bomber. High payload and fuel capacity." - Mission Editor description

[

]
The HB-106 is the main bomber plane of the enemy fleet. It has a high payload capacity and is designed for high-altitude carpet bombing.
Strategy
[
]
Unlike its cousin, the B-11 Bomber, the HB-106 is more apt for high-altitude bombing runs. It can reach impressive speeds in the air, especially when high up, giving it an edge over standard Surface to Air Missiles.
Armament
[
]
The weapons that the HB-106 can equip, as listed in the Mission Editor. All hardpoints can equip the same weapons.
4x Internal bays

SB-1 x32 - "A rack of 32 standard unguided bombs."