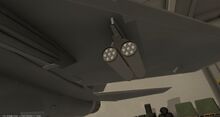 "A pod carrying a total of [X] high explosive rockets. Can be fired in single shot mode, or rapid fire (ripple)." -- In-Game Description

[

]
The Hydra 70 is a rocket pod available for the AV-42C, F/A-26B, and AH-94. Each pod contains a number of unguided rockets which are utilized similarly to an ordinary chaingun. It is generally very easy to load and use on a fighter. Its rockets can reach impressive speeds in the air very quickly and pack impressive explosive power into each one, making them valuable for Close Air Support tactics. Even just a rocket or two to a naval ship's bridge can bring it down with ease.
The EQUIP menu has options for single shot or rapid fire (ripple) modes, as well as salvo sizes.