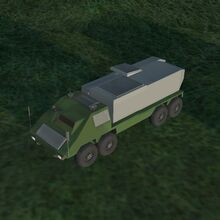 "The radar component of the Mobile Air Defense system. It can only move while Engage Enemies is unchecked (radar components will fold). The MAD-4 system features super long-range radar and missile technology on a mobile platform." -- Mission Editor description

[

]
This ground vehicle is one half of the MAD-4 mobile radar defense system. Its radar activates when its Engage Enemies property is enabled in the mission editor and it functions similarly to the SAM S/A Radar. It cannot move and have its radar active at the same time.
The MAD-4 radar is notorious for being a very powerful radar system, capable of detecting, tracking, and locking onto targets from super long-range, similarly to the NMSS Cruiser's long-range radar. It is recommended to pair this with an MAD-4 Launcher to better compliment its sheer range and mobility. This radar also works exceptionally well with the SAM Launcher's BSM-66LR and FLKM-100 missile configurations, allowing them to better capitalize on their sheer range for more efficient target destruction.
The MAD-4 Radar can be identified as 4 on the RWR.