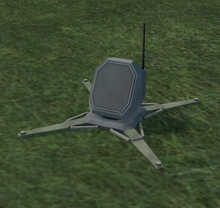 "Phased array fire control radar. Can rapidly detect and track targets in a 120 degree field of view. For use by SAM units that don't have their own radar." -- Mission Editor description

[

]
The SAM Fire Control Radar (RWR designation: SR) is one of two stationary fire-control radars used by the enemy faction, the other being the SAM S/A Radar. It is used for providing targeting and launch authorization for nearby SAM Launchers. It has a horizontal scan width of 120 degrees and a vertical scan angle limit of up to 90 degrees. Unlike the SAM S/A Radar, it has a lower detection range, but also a much faster scan rate which is audible on the RWR as more pings per minute. This SAM dish is best suited for covering narrow or specific areas, like the area of Akutan's airbase or a lake. It has a detection range of about 35km (18nmi).
Fire Ctrl Radar P
[
]
The allied faction has the Fire Ctrl Radar P, which is essentially just a SAM Fire Control Radar with a different model.