Welcome To The VTOL VR Wiki!
---
The community-run
VTOL VR Wiki
is dedicated to collecting and aggregating information on all the different facets of the popular military-themed VR flight simulator
VTOL VR.
Whether you are just trying to get through one of
the campaigns
, working on perfecting your
carrier landing
technique, or even doing research on specific units or
gameplay mechanics,
this Wiki is sure to have the information you need to up your skill from the runway to Angels 10 in no time!
We are maintaining 140 articles across the Wiki and constantly expanding.
If you feel like something's missing from the Wiki, or an article just needs a bit of cleaning up, feel free to pitch in with some writing or other edits! Every contribution makes a difference, no matter how small!
Feel free to check out the other community areas on the Wiki and get more involved with its development:
The Discussions page: A great place for both keeping up with admin announcements and discussing VTOL VR more in-depth. Feel free to ask a question about gameplay, suggest a new addition to the Wiki, or even complain about how radar-guided missiles are frickin impossible to evade smh!!!1!!
The To-Do List: This page lists various priority tasks to handle around the Wiki, first-come-first-serve. For the intrepid, helpful VTOL VR veterans or deft style-writers looking to help out with tidying up the Wiki, this is the place to be!
VTOL VR has evolved very rapidly over its three years of development, and it's only fair that its Wiki evolves in suit. On behalf of the VTOL VR Wiki administration, welcome to the Wiki and enjoy your info-gorging!
Feel free to join our Discord server as well to discuss Wiki policies and development.
Notice: the VTOL VR Wiki is not directly affiliated with or under the direct jurisdiction of Boundless Dynamics. This is not a website for submitting bug reports or requesting new game features. If you would like to get in contact with the game's developers, please do so through their official Discord server.
Game Overview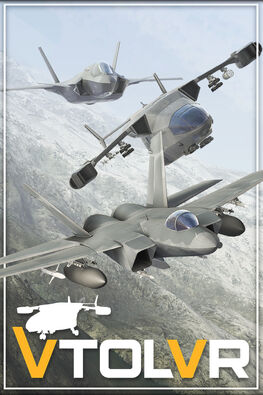 VTOL VR
is a near-future VR mil-fantasy flight game developed by Paolo Encarnación, also known as
BahamutoD
, of
Boundless Dynamics
, original creator of the
BDArmory
mod for
Kerbal Space Program.
It is centered around air combat, putting players in one of three aircraft in a military environment. Players can interact with each button and switch in their cockpit to control their aircraft; no keyboard or even HOTAS interaction is required. Players can take on a number of different enemies, including hostile aircraft, ground units, and even naval ships with a plethora of strong weaponry. VTOL VR was released on Steam Early Access on August 7, 2017 and entered 1.0 on August 7, 2020.
VTOL VR is currently in version v1.4.3.
VTOL VR is playable on the HTC Vive, Oculus Rift (S), Valve Index, Oculus Quest (only via Oculus Link or Virtual Desktop) and Windows Mixed Reality. The game requires both an HMD and controllers. There is optional hardware rudder support, but no HOTAS support.
VTOL VR offers a small variety of advanced multi-role aircraft for use:
The game offers missions that put players in transport, air-to-ground, and air-to-air combat roles. Additionally, users can create their own maps and missions or play other users' content via the Steam Workshop.
Game Mechanics
Gameplay
Miscellaneous
Units
Content Editors
Looking to try out some changes to the main page? Feel free to experiment with the Wiki's Main Page Sandbox.